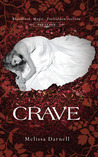 Crave
by
Melissa Darnell
My rating:
4 of 5 stars
I bought the first novel in this series during a grocery shopping trip a couple of years ago and set it aside - there's nothing I dislike more than having to wait for the next installment once beginning a series. Then I bought the second . . . and when I unpacked my books, I realized the third had been released (though I had to order it because it was out of stock).
It was worth the wait.
Sav thought she was just a normal, run-of-the-mill invisible girl with annoyingly loyal friends until she woke up after becoming black-out sick. I assumed, at this point, the story would take the cliché turns, but I was pleasantly surprised. Though I am not a huge fan of multiple POV's, I really enjoyed being able to see the story from both Savannah and Tristan's perspectives. Without it, the full depth of their shared history wouldn't be understood and their intense connection to one another would've
felt
cliché. Tristan is overprotective but understanding and Savannah, unlike other kick-ass dhamphirs, is vulnerable as she tries to figure out where her new curse/gifts will take her.
While these are motives reused, Darnell gives us a combination of old tales with a new spin. The fight these characters put up is admirable and I love the unexpected ending. Darnell's given readers a witty, keep-them-wanting-more love story that'll force you to pick up book two . . . even if you have to play hooky for a day to complete it.
View all my reviews